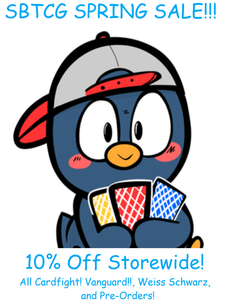 SITEWIDE SBTCG SPRING SALE - FROM MARCH 25TH to APRIL 1ST
Hello Everyone, Jesh here! 
We are announcing our upcoming sale for our ENTIRE STORE. The sale will start from March 25th, 2022, 12am PST (PACIFIC STANDARD TIME) and will end on March 31st, 2022, 11:59pm PST. You'll get 10% off all available product during this time. 
While the sale is ongoing our sponsored player codes will not be applicable. The discount is automatic and will be applied during your checkout process, so there's nothing to worry about.
AGAIN, EVERYTHING ON THE STORE WILL BE ON SALE! IF YOU CAN PLACE IT INTO YOUR CART IT WILL BE DISCOUNTED!
Along with the discount, orders above 100$ will receive a Mushoku Tensei Tournament PR pack! (While supplies last, one pack per customer.)
(All sales during this time period are FINAL non-refundable, barring extenuating circumstances.)
I used comic sans on purpose >:)
---